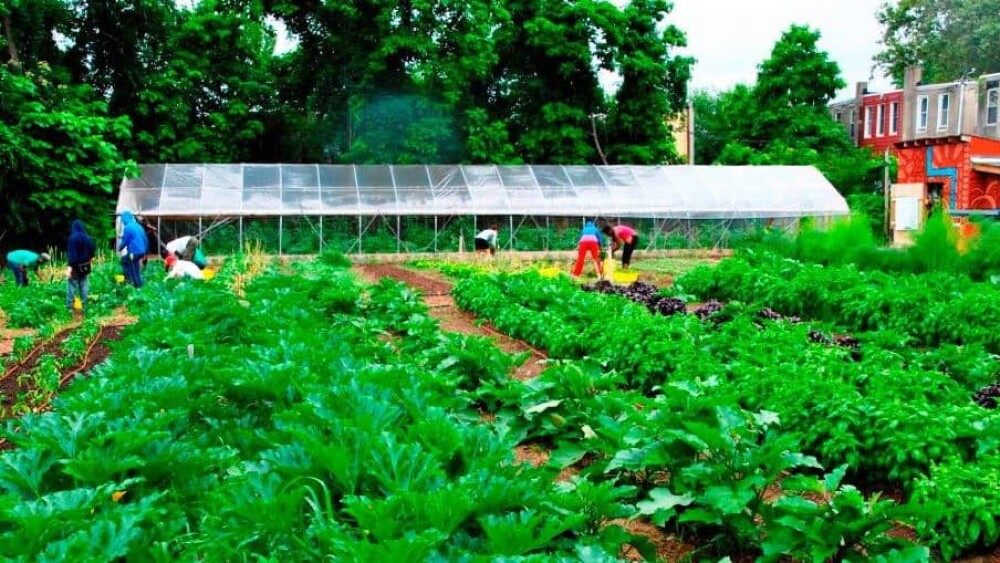 Viasat Business Internet started the Ready. Set. Grow. small business grant program in response to the challenging times brought on by the coronavirus pandemic. Through the program, five small businesses each received a $5,000 grant, and five others each received a $1,000 grant. Recipients were selected based on their responses to a short series of essay questions. We're happy to feature these businesses that stood out in their applications, each one a testament to the fortitude and determination of small businesses and organizations all across America.
In 2009, a group of people in a working-class Philadelphia neighborhood had a vision: In an abandoned lot littered with toxic waste, car parts and other trash, they saw a lush garden that could help sustain the area residents.
The nonprofit Urban Tree Connection (UTC) made that vision a reality, transforming the lot into what is now known as Neighborhood Foods Farm — a three-quarter acre farm at which sustainable agriculture practices are used to grow chemical-free produce. That food is sold to local residents at neighborhood farm stands, and the money is re-invested in the programs.
"We did a lot of remediation to get the land to a place where it could be a safe space to grow healthy, nutritious, safe food," said UTC Executive Director Noelle Warford. "It's a beautiful space now with a vegetable farm, a greenhouse and refrigeration. We grow about 6,500 pounds of food each year, working alongside people to create real change in the community."
UTC's impact
UTC was founded in 1989 by Skip Wiener, a longtime landscape architect who grew up in Philadelphia's Haddington neighborhood. Returning to it as an adult, he saw a community struggling with poverty and crime, inspiring him to launch the nonprofit.
Through the program, 29 vacant and blighted lots have been converted into pocket parks, community gardens and open spaces. Community members partner with UTC in growing, harvesting, distributing and selling the food. The spaces provide much more than sustainable food – they are community gathering places offering multi-generational leadership development, as well as health and wellness education.
Haddington is home to about 15,000 people, most of whom are African American. It borders a commercial corridor home to several Black-owned businesses, a rec center, churches and a library.
"As vibrant and resilient as the community is, there are also some significant challenges – high rates of poverty and unemployment and very high rates of diet-related illnesses – which is why access to fresh, healthy food is so important," Warford said.
The organization's programs are targeted to meet specific needs. Farm stands are in areas with limited access to food. UTC also has a program where those in need pay only $5 for a bag of vegetables. And it delivers produce to early childhood centers in the neighborhood.
Warford said the money it makes from food sales doesn't cover much of what UTC does. "We sell it all at a very affordable price. Our focus is making sure all the food is completely accessible to our neighbors."
The COVID factor
A pandemic was a barrier the UTC didn't count on.
As essential workers providing healthy food to its neighbors, it continued its operations throughout the COVID-19 crisis. That's despite increased costs and loss of revenue from buying needed safety materials and protective gear, suspending its revenue-generating farmers' markets in favor of coordinating with neighborhood block captains to provide free produce to neighbors in need, and canceling its large community events.
UTC has initiated no-contact food drops and moved much of its work online. That includes culinary classes, youth and community education classes and staff meetings. Participation in those online programs has also increased with more people at home and in need of the information.
"This has all been a really big shift," Warford said. "I don't know how we would function without internet right now."
UTC has used Viasat Business Internet since 2019. While the organization's offices are in the city, traditional internet service providers don't serve their address.
"They have just not invested in that part of the corridor, which led us on a journey to figure out what else could be a good fit for us," she said. "Our technology consultant helped us identify Viasat, which has been working well."
It's been particularly vital as UTC has worked to meet the needs of community members heavily affected by COVID-19.
"We were one of the zip codes that had the highest positive testing rates in the city," Warford said. "And our community has been very impacted by unemployment, loss of health care and people having more care-giving responsibilities. A lot of the folks in our neighborhood don't have much control over their work schedules. They work in sectors that are considered essential workers, and are at increased risk."
A large percentage of the people UTC serves are also elderly.
"The main reason we shifted our food distribution was because we knew it wouldn't be safe for the people who needed our food most to come out to a market," she said. "Through our local block captain initiative, we've been able to reach people who are homebound, and they're getting their food from a trusted source – a neighbor."
A helping hand
UTC, which is funded entirely by donations and grants, was among the businesses awarded one of Viasat's $5,000 Ready. Set. Grow grants.
"We need more people from the private sector investing in community-based organizations and community-based work," Warford said. "I think it's part of being socially responsible – to think about how we can invest in the communities that we're providing this service to. So we're excited that Viasat is offering the grant and feel good about being connected to a service that is invested in doing that."
The grant will help keep several UTC programs going through year's end, including continuation of the block captain and food distribution initiatives – programs that typically end by Nov. 1.
"This is the kind of year where business as usual is out the door," Warford said. "But we've seen a growing need around food insecurity in the neighborhood and coronavirus has further exacerbated that. We are preparing so that we can continue to be a resource to people over the winter."